Life is Better With Tankless
Need help understanding what tankless water heaters are and if they're right for you? We're here to help. We have everything you need to make an educated decision on your home's most important appliance.
How Tankless Works
No-Hassle Hot Water, When and Where You Need It
With a tankless water heater, your home's cold water is heated only when you need it, and it stays hot until you're done using it. This results in a limitless hot water supply and little to no wasted energy usage.
Flame ignites and heats two heat exchangers
Water preheats as it passes through the secondary heat exchanger
Water continues to heat to desired temperature as it passes through stainless steel primary heat exchanger
Water exits the unit and travels to the water fixture where it is needed
Flame output adjusts as needed to maintain water temperature during use
With usage complete, the flame turns off and water stops flowing
Tankless water heaters can work with both natural gas and propane heat sources.
If your home runs on all-electric heat, tankless may still be a viable option. Contact a Rinnai PRO for further assistance.
Technology & Features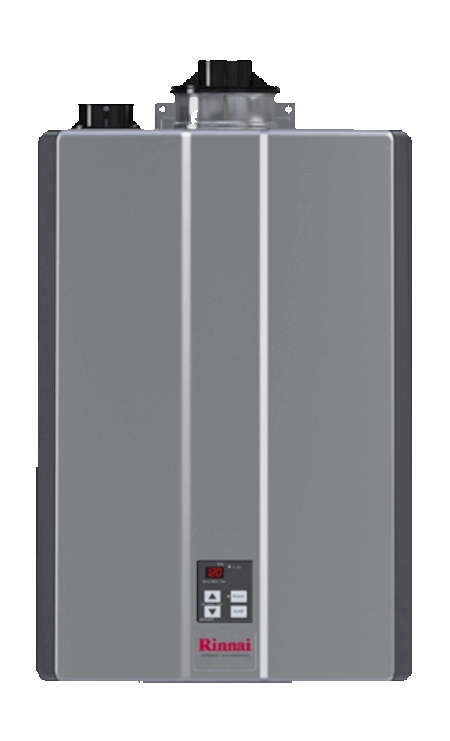 01

Compact Size

Tankless water heaters are about the size of a carry-on suitcase, so they can fit in small spaces like closets, cabinets, and mud rooms.

02

Unlimited Hot Water

Because your water is continuously heated as needed, you'll never have to choose between taking a hot shower, doing a load of laundry, or running the dishwasher.

03

Wi-Fi Capable

Wi-Fi technology allows certain water heaters to be monitored and controlled (scheduling, recirculation, and more) via smartphone or voice-controlled device.

04

Durability

Tankless water heaters are easier to repair than tanks, often eliminating the need to replace the unit. And many offer extended, comprehensive warranties.

05

Energy Efficiency

Rated by a Uniform Energy Factor (UEF), tankless water heaters are a highly efficient hot water appliance and ENERGY STAR® certified units offer additional energy saving benefits.

06

Convenience

Accessories like room motion sensors and push-button water demand are available to help make hot water instantly available when it's needed.
No More Waiting for Hot Water
Waiting for hot water can be frustrating, costly, and wasteful. Recirculating technology eliminates the wait, so hot water is always at the ready. Our technology permits this even if your home does not have a dedicated return line.
The Smart Investment
RUR SE+ Series
Better Than a Tank
Your water heater is the most important appliance in your home. Choosing tankless is the smart investment.
Tankless water heaters last up to twice as long as tanks
Save energy by heating water only when it's needed
Avoid costly replacement events with a maintainable and repairable tankless unit
Compare Tankless vs. Tank
Tankless Water Heater
Tank Water Heater
Technology
Super High-Efficiency
Condensing Tankless
Gas
50G Storage Tank
Electric
50G Storage Tank
Fuel Type or Energy Source
Natural Gas
Propane
Natural Gas
Propane
Electric
UEF (Uniform Energy Factor)
0.92
0.92
0.60
0.60
0.95
Annual Operating Costs*
$201
$487
$309
$745
$626
*As based on the average cost to run an electric tank water heater per the Department of Energy (DOE) Average Energy Costs (doe.gov) 2017
Find the Right Rinnai For Your Home
Answer a series of simple questions about your home and our Solution Selector will show you exactly what Rinnai system you need to improve your life and home.
Find Your Solution
Protect Your Investment
Tankless water heating system installs require a specific knowledge and highly trained skill set you can only get from a professional. Be sure to protect your investment by having your tankless system installed by a certified Rinnai PRO.
Find a PRO
Ready for more? Visit our tankless water heater page for deeper information.